GUEST DOGS OF THREADLESS: MANNY THE FRENCHIE
Did you know that a celebrity lives just down the street from Threadless HQ? His name is Manny, he's a 2-year-old French Bulldog, and he has more than 11,000 Instagram followers and his own Facebook page.
What do you like most about visiting Threadless? The Threadless staff is so nice and they are so much fun. Their facility is like a giant indoor playground! They have many fun things to do there like a pool table, photo booth, ping pong table, video games, and a very comfy bear rug that I like to lay on. Not only can mommy and daddy shop and buy t-shirts for themselves, but they can also shop for me while I run around and play with everyone at the facility. They also have many dogs there to play with but so far I have only met Khloe the Frenchie. She was fun to run around with.
Do you have a favorite Threadless tee? I like the French Bulldog t-shirt they have… oh yeah, they don't have one YET! I saw that they had a pug t-shirt though. Booo. If they would put me on a t-shirt, that would be my favorite one though. :) Right now, I love all their tees, especially their animal t-shirts!
What advice do you have for other dogs trying to break into Instagram celebrity-dom? I really don't know how this happened. Mommy and daddy started an Instagram profile and took pictures of me for the family to see. All of a sudden, it started to blow up. I love making new friends on Instagram and I currently have many doggy friends. There are so many frenchies on Instagram too, and I love following them all. My friends on Instagram are amazing and from all over the world. They do very nice things for me. They draw pictures of me, they make clay figures of me, and they send me nice messages. I guess my advice is to be yourself, have fun, and be happy and willing to take photos wherever you go. Oh yeah… have nerdy parents that are obsessive smartphone users, that helps.
What is your proudest accomplishment? My proudest moment is being able to roam the house freely when my parents are gone now. I used to have the urge to go through the trash and not being able to hold my pee and poo for a long time. Every time I knew mommy and daddy were leaving, I would hide in the closet, in the shower, in the laundry room, or under the couch because I hated going in my crate. These humans are much smarter than I thought and for some reason, they would always find me. Now I'm a big boy and almost 2 years old. That's almost 14 years old in human years!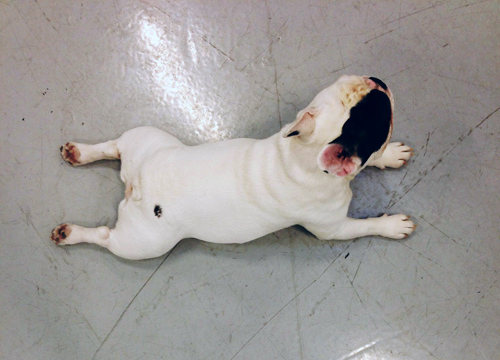 What hobbies or tricks do you have? Some of my hobbies include going to the park, playing soccer with ice cubes, eating, sleeping, playing with my brother and sister, checking my Facebook, making new friends on Instagram, and watching Animal Planet. I also can do many tricks like spin in circles on my hind legs, rolling over, give high fives, and swallowing snacks whole without chewing. I taught that trick to myself and sometimes I puke, but I usually can get the snack down with one gulp.
Where does your nickname "Bubbies" come from? Mommy and Daddy used to call me Bubba because I was a chubby baby. Then it became Bubbalo for some reason, then Mommy started to call me Bubbies.
WRITE A CAPTION TO ENTER TO WIN $25 THREADCASH
Look at this adorbs photo that Manny took in a Threadless shopping bag! We love it so much we want to give away a $25 gift code to one of yous. Post your caption in the comments by 1/31 5 pm CT and Threadstaff judges will pick their favorite to send 25 Threadless buckaroos.
Here's the winning caption:
"Is this really how Spud McKenzie and the Taco Bell dog started their careers?"
Congrats to StrayTangent!
SOURCE: http://www.threadless.com/info/blog/962111/guest_dogs_of_threadless_manny_the_frenchie_update_now_with_caption_contest_for_a_25_gift_code